Back Pain Diagnosis & Treatment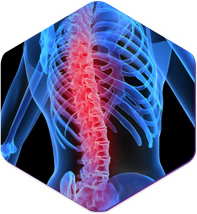 Chronic back pain can be a life changing condition. For some, a few pain pills a day allow the chronic pain to be dealt with, but for others, and for those tired of popping pills, new back pain diagnosis and treatments for this pain are becoming popular. At Interventional Pain Associates, we offer a wide range of noninvasive and minimally invasive treatments for our patients in Austin that have shown remarkable results. If you are like millions of people and are tired of living with the terrible reality that is chronic, debilitating back pain, contact Interventional Pain Associates in Austin today to see what we can do for you.
Additional Articles About Back Pain:
Common causes
Most people believe that you need a major traumatic event to cause chronic back pain. For the most part, this isn't really true. Things like car accidents, falls, and hernias can cause severe trauma to the back, but many chronic pain sufferers report no such incidents, and still they live every day of their life with pain in their lower back. Chronic back pain can be caused simply by sitting everyday at work in the wrong kind of chair that doesn't provide the right kind of back support. Of course, most traditional doctors and insurance companies don't want to hear this, which is why treating such a condition is so difficult. If you are suffering and you can't seem to get a straight answer from your doctor, contact our office in Austin, TX, today.
Am I suffering from back pain?
Realizing that you suffer from a chronic back pain condition is more difficult than you think. Many of these conditions end up causing pain throughout the body, from the finger tips to the feet. This is because most back injuries play havoc with the bodies' various systems, including the nervous system. This often means that the numbness that you experience in your legs or arms, along with the sharp stabbing pain in your heels, are all rooted in your back. This is what makes diagnosing these kinds of issues so difficult for doctors using traditional methods. You don't have to be handcuffed by these methods any longer. At Interventional Pain Associates, we use state of the art technology along with traditional eastern methods to properly diagnose and treat your chronic pain. You no longer have to lead a life that is fraught with chronic pain from the time you get up in the morning until you go to sleep at night. Chronic back pain doesn't have to stand in the way of you living your life any longer. Contact Interventional Pain Associates today.
Time to take action
The only thing standing between you and a life free of chronic back pain is a phone call to Interventional Pain Associates. Our time tested methods can help you eliminate chronic pain from anywhere on your body, including the back and neck. Take back your life from chronic pain today by calling Interventional Pain Associates and scheduling an appointment at our Austin office now.