Joint Pain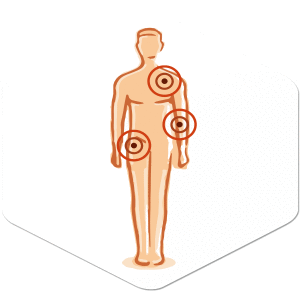 Joint pain refers to discomfort, aches, and soreness in any of the body's joints. Joint pain is a common complaint, and does not typically require a hospital visit. Arthritis is a frequent cause of joint pain. However, it can also be caused by other conditions or factors. Ligaments attach bone to bone around the joint. Bursae are fluid-filled sacs that provides a surface so the tendons can slide back and forth that are adjacent from one another. Tendons attach muscle to bone around the joint. Injury or disease to any of the structures of the joint can lead to pain in the joint. Joint pain is also referred to as arthralgia.
Joint Pain Definition:

Joint pain is discomfort that arises from any joint — the point where two or more bones meet. It is sometimes called arthritis or arthralgia. It can be mild, causing some soreness each time you move your joint. Or joint pain can be severe, making it impossible to use your joint. At Interventional Pain Associates we can help determine the cause and get your pain treated the right way.
What is the cause of Joint Pain?
Any damage to the joints from disease or injury can interfere with your movement and cause a lot of pain. Many different conditions can lead to painful joints, including osteoarthritis, rheumatoid arthritis, bursitis, gout, strains, sprains, and other injuries. Joint pain is extremely common. Joint pain can be caused by injury or disease affecting any of the ligaments, bursae, or tendons surrounding the joint. Injury or disease can also affect the ligaments, cartilage, and bones within the joint, leading to a painful joint. Pain is also a feature of joint inflammation (arthritis) and infection and can be a feature of rare tumors of the joint.
Are you experiencing Joint Pain? Get your pain under control today. Call: (512) 588-2722 and talk to a pain specialist.